Here at the Diaper Bank, we are thrilled with what all of our volunteers have accomplished in the past year. From distributing more diapers than ever before to supporting legislative efforts to reduce diaper need, it's been an amazing ride.
2016 was truly a transformative year for us. In the past 12 months, we've:
        Changed our name from The Diaper Drive to the Diaper Bank of Minnesota
        Delivered more than 150,000 diapers to 15 partner agencies across the Twin Cities metro community
        Supported Senator Franken and Congressman Ellison's efforts to support families in need of diapers
        Established relationships with new partners for 2017, expanding to 18 partner agencies for next year
        Collected 90,000 diapers from community events, diaper drives and individual donations!
        Received a National Diaper Bank Network grant for new marketing initiatives
        Raised more than $17,000 from diaper drives, fundraisers and individual donors
That's pretty amazing when you think about it!
Thank you to everyone who helped make this such a successful year, especially our Diaper Driver of the Year, Marlee Torrence, collecting 12,854 diapers and 13,198 wipes during National Diaper Drive Awareness Week.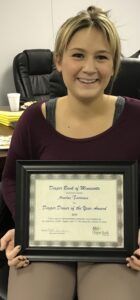 We are looking forward to doing even more great work in 2017, and we'll need your help. If you haven't already, fill out our volunteer interest form to let us know how you'd like to support the Diaper Bank in the upcoming year.