Did You Know?
The Diaper Bank of Minnesota is a member of the National Diaper Bank Network, which raises awareness of diaper need across the country. The National Diaper Bank supports a network of over two hundred active diaper banks, including ours!
Our Mission
We have three primary goals at the Diaper Bank:
Providing diapers to families in need
Increasing awareness about diaper need in Minnesota
Advocating for changes to improve conditions for the many babies who need diapers
Please consider making a donation to support this mission!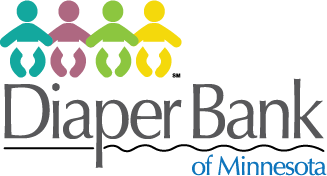 We're a small but mighty team
The Diaper Bank puts as much of our funds as possible towards providing diapers in our community. Our only paid staff member is our Executive Director, who works with a fantastic team of volunteers and board members.
We all came to the Diaper Bank because we wanted to make a difference in the lives of Minnesota's littlest citizens.
The Diaper Bank began in 2010. Kristen Grode found some outgrown, open packs of diapers from her two little girls. She wondered where to donate them, and found that Minnesota didn't yet have a diaper bank. And the rest is history!
We'd love for you to join us! There are lots of ways you can support the Diaper Bank.
How We Help Minnesota Families
Like all diapers banks across the country, we work with partner agencies who distribute diapers to families in need. These agencies provide many services for families – we provide diapers so that they can focus on providing services rather than collecting diapers.
Check out our amazing partners for more information about the groups that distribute the diapers we collect and purchase.