We're more than half-way through Diaper Need Awareness Week, and we wanted to highlight a Diaper Drive that has already been incredibly successful. 
The American Indian Family Center organized diaper drop-off locations at Mitchell Hamline School of Law and the Shakopee Mdewakanton Sioux Community daycare and Playworks to collect diapers throughout the month of September. They also worked with the Cub Foods and Target in Crystal to collect diapers there. 
Today, the group has already collected more than 14,000 diapers and wipes for little ones in need!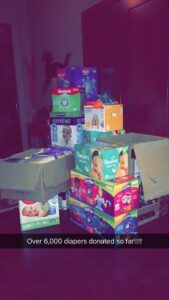 The Diaper Bank is so grateful to Marlee Torrence for her coordination efforts, and for the hard work from everyone on this team. Thank you all! You are making a huge difference to combat diaper need in our state. 
There are still a few more days left to contribute to the Diaper Bank's goals of raising $5,000 and 20,000 diapers this Diaper Need Awareness Week. Find out how you can help!