We have a very exciting announcement to make. On January 14, the National Diaper Bank Network announced the winners of the 2016 Funds for Change Grants, and The Diaper Drive in Minnesota was one of the recipients!
We were one of 25 diaper bank programs across the country to receive a micro-funding grant to support our plan for long-term growth and sustainability. The Diaper Drive received $2,500 to spread the word about diaper need throughout the Twin Cities, bring in new volunteers to the organization, and ultimately to help more families in 2016 than ever before.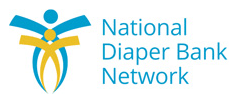 The National Diaper Bank Network has been helping community diaper banks be successful since it was founded in 2011. According to the NBDN's director of programs, these grants are awarded to support local diaper banks like ours because they recognize that we are doing important work to "ultimately [help] families struggling to meet a most basic need of infants and toddlers, access to clean diapers." And we're so grateful they chose our diaper bank as one of this year's recipients.
Check out the NBDN's blog post for more information about the Funds for Change Grants.