Here in Minnesota we have lots of heros — and at the Diaper Bank, Congressman Keith Ellison is one of ours. Last week we had the pleasure of meeting with Representative Ellison, and introducing him to one of our partner agencies, the Robbinsdale Public Schools.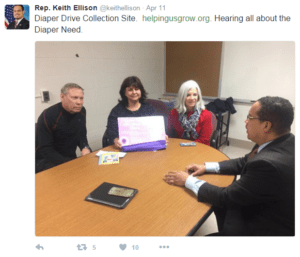 We're grateful for Rep. Ellison's time! He meet with Diaper Bank volunteers, a teen mother, program volunteers as well as lots of students at Robbinsdale High School. 
If you haven't already heard, Rep. Ellison is one of the sponsors for the Hygiene Assistance for Families of Infants and Toddlers Act of 2015 in the House of Representatives (H.R. 4055).
This bipartisan bill will help families by doing three things:
Authorize states to opt-in to a federal program to provide diaper assistance to needy families
Increase the funding for the Temporary Assistance to Needy Families program
Allow families to use benefits with the TANF program to purchase diapers
Unfortunately, time is running out for the House of Representatives to vote on this bill. You can help by contacting your Congressman's office and asking them to support the bill! 
Thank you, Representative Ellison for your continued support of the Diaper Bank, and for fighting for families who need help affording diapers for their little ones!